WE CAN CUSTOMIZE ANY PARTITION. SELECT ANY PANEL COLOR, COMBINATION OR PATTERN.
We provide free custom design services and can help you with room partition layouts. We can also customize any partition from our assortment of panel colors, materials, partition sizes and frame patterns. Contact us with your ideas and requests and we will be happy to assist you. CONTACT US
THE ORIGINAL MODERN MODULAR ROOM PARTITIONING SYSTEM ▪ MADE IN THE USA SINCE 2009
SHOP BY SIZE COLLECTIONS - SELECT YOUR DESIRED PANEL COLORS & PATTERNS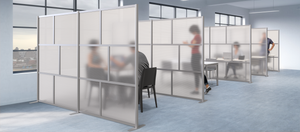 WELCOME TO MODERN ROOM DIVIDERS & OFFICE PARTITIONS.
iDivide is a modular room divider and office partition wall system for use in offices, schools, healthcare facilities, medical offices, restaurants, at home, or anywhere a privacy partition wall is needed. The interchangable modular parts can be reconfigured and added onto in the future.
MODULAR WALL SYSTEM FEATURES:
Corner Vertical Support Post for L-Shaped Configurations, 3-Way Vertical Support Post for T-Shaped Configurations. 4-Way Vertical Support Post. Your imagination is the only limitation! iDivide Modern Room Divider Walls are proudly made in the USA since 2009.